Executive Presence: How to Impress And Inspire Your Board
Executive presence is the force that can push your leadership from competent to excellent.
By Grace Zientarski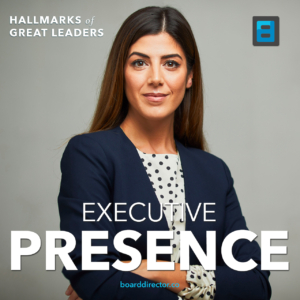 Executive presence is a key leadership characteristic that shows your confidence in commanding a room while also inspiring those around you. It is an achieved skill that requires repetitive practice, but it's an effort that will continue to reward you in the boardroom. Your executive presence can improve the quality of your next board meeting and help your nonprofit reach its goals. It is the force that can push your leadership from competent to excellent.
Executive presence does not happen overnight. Enhancing your executive presence may require an adjustment in mindset to eliminate self-doubt. Excellent leadership requires an understanding that improvements can always be made, and asking for feedback to understand your strengths and weaknesses should always be welcomed.
Sylvia Ann Hewlett, author of Executive Presence: The Missing Link Between Merit and Success, has pinpointed the defining qualities of Executive Presence through three main pillars: gravitas, communication, and appearance. Each pillar matters in different ways, but they all intermingle to create an authentic leadership presence that both inspires and impresses.
Related: How To Be An Exceptional Nonprofit Board Member 
Executive Presence Through Gravitas
Hewlett found through her research that gravitas is the most influential piece of the executive presence puzzle. Gravitas is the way you act, how you carry yourself. Its desired qualities include poise, decisiveness, integrity, emotional intelligence, reputation, and charisma.
Collaborative board meetings often lead down the road of debate. When there are differing opinions, truly listen to all points and synthesize the exchange to set a decisive course of action. By demonstrating gravitas during those debates and remaining cool and level headed in a heated discussion shows your board that you have the integrity and respect to lead them in the decision making process.
Executive Presence Through Communication
Communication can often be the leverage that builds your gravitas. This pillar values a concise and compelling speaking style and the ability to command a room. Have a vision and a goal for your board meeting and communicate those goals to the board prior to meeting. By communicating the goals prior to meeting it opens the line of communication before the meeting even starts.
In order to be an effective communicator with excellent executive presence you want to build up your communication skills. Begin by brushing up on your public speaking skills. Rehearse what you will say beforehand to avoid rambling and repeating yourself. While your words are of the utmost importance, also consider the non-verbal messages you send. If you fold your arms in front of you, it can create a barrier that blocks board members from connecting with you. Practice keeping your arms at your side and gesturing to appear more open and active in the conversation. Make eye contact with others to show confidence and attention. Try not to slouch. Standing and sitting upright is a clear sign of self-assurance.
Good communicators are even better listeners, and listening to your fellow board members shows self-assurance and respect. Remember to give your full attention to everyone who is speaking, and demonstrate your ability to command a room by facilitating a conversation. Ask questions, but also listen to the answers. If a board member hasn't had the opportunity to speak, include them in conversation by asking for their input. In a debate between different courses of action, enforce structure to streamline the discussion.
When there is clear communication, motivation and inspiration often follow and goals can be achieved.
Executive Presence Through Appearance
While appearance is the least significant, it is a necessary ingredient to executive presence. It is the most subjective, making it the trickiest to master. Standards for appearance will vary based on the culture of your organization. Try to research and understand the surrounding culture in order to grasp the appropriate guidelines.
Your appearance is the first thing board members notice when you enter the room. First impressions matter and also show your level of confidence. Looking your best will leave a positive first impression that can help set the tone for the meeting. Make sure your appearance is groomed and polished, and there is nothing overly distracting about what you are wearing. Dress for the part and the confidence, along with the executive presence will follow.